Welcome to St. Thomas the Apostle Parish
Ordinary Time is a time for growth and maturation, a time in which the mystery of Christ is called to penetrate ever more deeply into history until all things are finally caught up in Christ. The goal, toward which all of history is directed, is represented by the final Sunday in Ordinary Time, the Solemnity of Our Lord Jesus Christ, King of the Universe.
---
All are welcome to view LIVE streamed Masses from St. John's below
---
OFFERTORY/ONLINE GIVING. We rely on our Sunday collections to help provide the needs of our Parish Community. You may mail in, or drop off your envelopes. You may also donate online. On how to sign up, CLICK HERE.
Click here to donate to St. Thomas the Apostle
---
Sign-up for Masses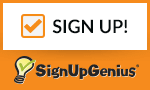 Click HERE to signup for Mass or call Parish Office to register for Mass at EITHER Parish. Masks are mandatory.
---
Click here for Events
---
Click HERE for the Facebook LIVE Masses
Click HERE for the PORTUGUESE Daily Mass
Click HERE for RCAB COVID-19 Guidelines
Click HERE for CDC Church Guidlines
Want to stay in touch? Text PARISH to 42828 to be added to our email list!
---
SCAM ALERT Do not buy or send any gift cards, cash, or EFT requests made via email, text, or phone. Fr. John, Fr. Kevin, or any staff are not making any requests