St. Thomas the Apostle Main Number 978.531.0224
---
We want to stay in touch with you! Please text PARISH to 42828 to be added to our email list.
CLICK HERE to access all the info on COVID-19, Mass Updates, Times, LiveStream Masses & How to Register for Mass at both Parishes.
CLICK HERE to read Father John's Important Updates on Church Openings.
Click the SignUp Genius ⇒ or call 9781.531.0002 to register for Mass. There is ONE master list - please do not email your request. Only signups via the SignUp Genius or phone will be allowed. Masks must be worn to Mass.
OFFERTORY/ONLINE GIVING. With no collection we rely totally on any contribution you send. We ask you to support our parishes if you can. We rely on our Sunday collections to do our work. You may send envelopes or make a donation online. This is an ideal time to join online giving! On how to sign up, CLICK HERE.
Click here to donate to St. Thomas the Apostle
Click here to donate to St. John the Baptist
SCAM ALERT Do not buy or send any gift cards, cash, or EFT requests made via email, text, or phone. Fr. John, Fr. Kevin, or any staff are not making any requests.
REGISTER NOW Click here for 2020-21 Religious Education Online Registration for both parishes
Sign-up for Masses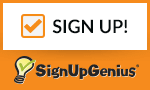 ---
---
Click here for Events
Click on link Below to Read
---
NEW TO OUR PARISH
---